Introducing the "First & Last Day of School Board", a charming and interactive product for both children and parents. Perfect for the first day of Preschool through 12th Grade, this double-sided chalkboard helps capture and record the growth and changes of a child throughout the school year. It has a unique design; one side displays "First Day of," and the other "Last Day of", enabling the child to express their interests, details about their teacher, favorite things, age and a lot more. The package includes the dual-sided chalkboard, six vibrant markers, and a cotton wipe for easy clean-up. This delightful, firm wooden chalkboard, designed with a PET film coated surface for a smooth experience, is a fantastic gift for children to commence or wrap up their school year.
In this article, you'll get to know the various uses and excellent benefits of the "First & Last Day of School Board". You'll learn how this practical, yet fun product can become a longstanding family tradition – creating a visual timeline of your child's academic journey. You'll understand how the chalkboard's design encourages children's interaction and expression while enabling you to record and cherish every significant school milestone. Additionally, you'll discover how this quality, reusable chalkboard is a unique, lasting gift that offers value beyond its cost. Get ready to make beautiful, lasting school memories!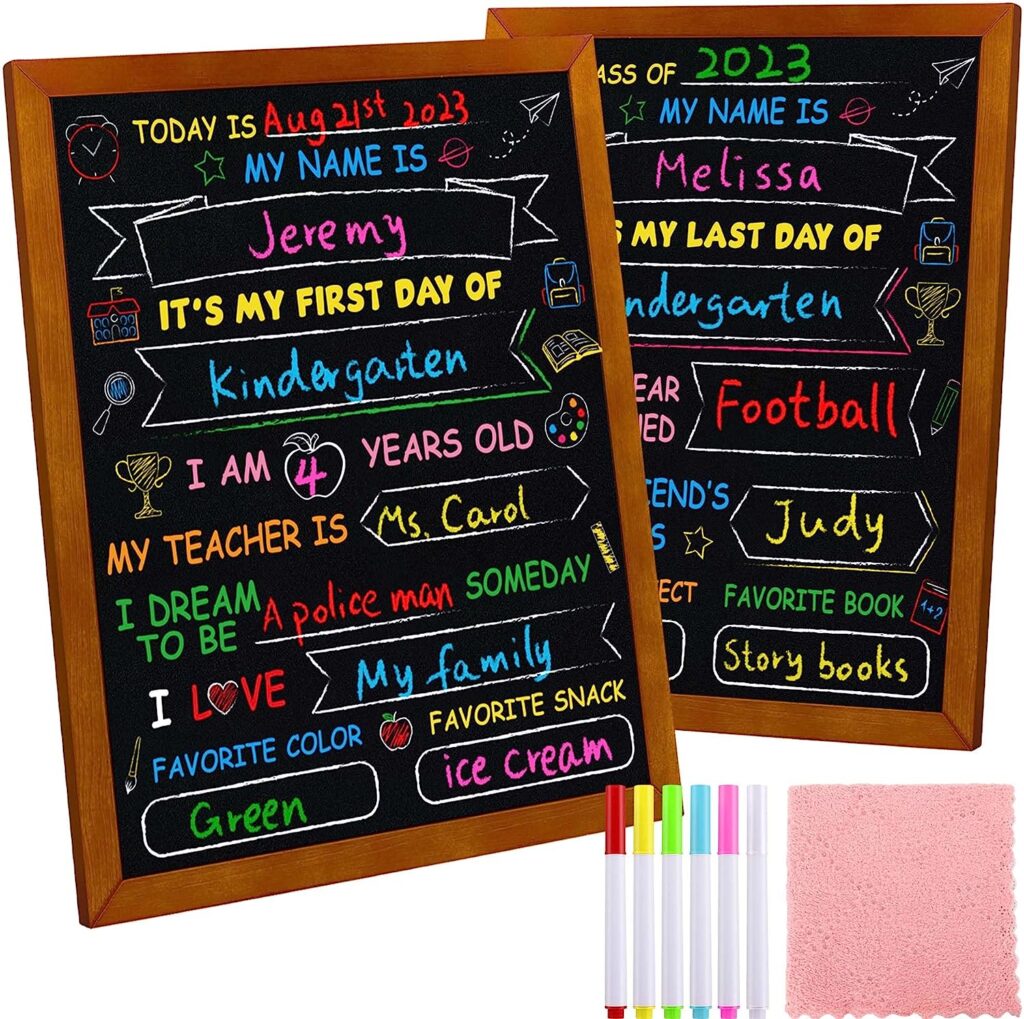 Highpoints and Utilities
The "First & Last Day of School Board" isn't just a piece of chalkboard, but a unique and heartwarming way to capture your child's growth and development year after year. Let's talk about what makes this product stand out.
High-Quality Build
Made with a firm wooden frame and coated with PET film, this double-sided chalkboard provides a smooth and durable surface perfect for withstanding years of use. Measuring 12.6 by 11 inches with 0.4 inches of thickness, it has the perfect size and weight for little hands to hold or for parents to hang on the wall as a charming keepsake.
Double-Sided Fun and Keepsake
One side of the board showcases the "First Day of School" theme while the other side features the "Last Day of School". This concept not only adds an element of excitement for your child but also allows you to record your child's progress during the school year. On these boards, your child can personalize information like their age, favorite book, teacher, interests – encapsulating moments of growth and change.
All-Inclusive Package
The package comes in a complete set consisting of the double-sided chalkboard, six vividly colored markers, and a cotton wipe for easy cleanup. This full-value package makes it a ready-to-use set without the need for any additional purchases.
Incorporating It Into Your Routine
From capturing your child's milestone moments to being a fun educational tool, the uses of this unique chalkboard go beyond the traditional school setup.
Capturing Milestones
This chalkboard makes an ideal backdrop for those milestone first and last day school photos. Use it to capture your little ones on their first day of preschool or kindergarten, then again on their last day to see how much they've grown and matured.
Expressive Teaching Tool
Not just a prop, it can also serve as a teaching tool. It encourages your child to express their feelings, interests and aids in developing their reading and writing skills.
Unique Decor Piece
You can also use it as a unique decor item in your child's room. It adds a personal touch and serves as a constant beautiful reminder of their educational journey.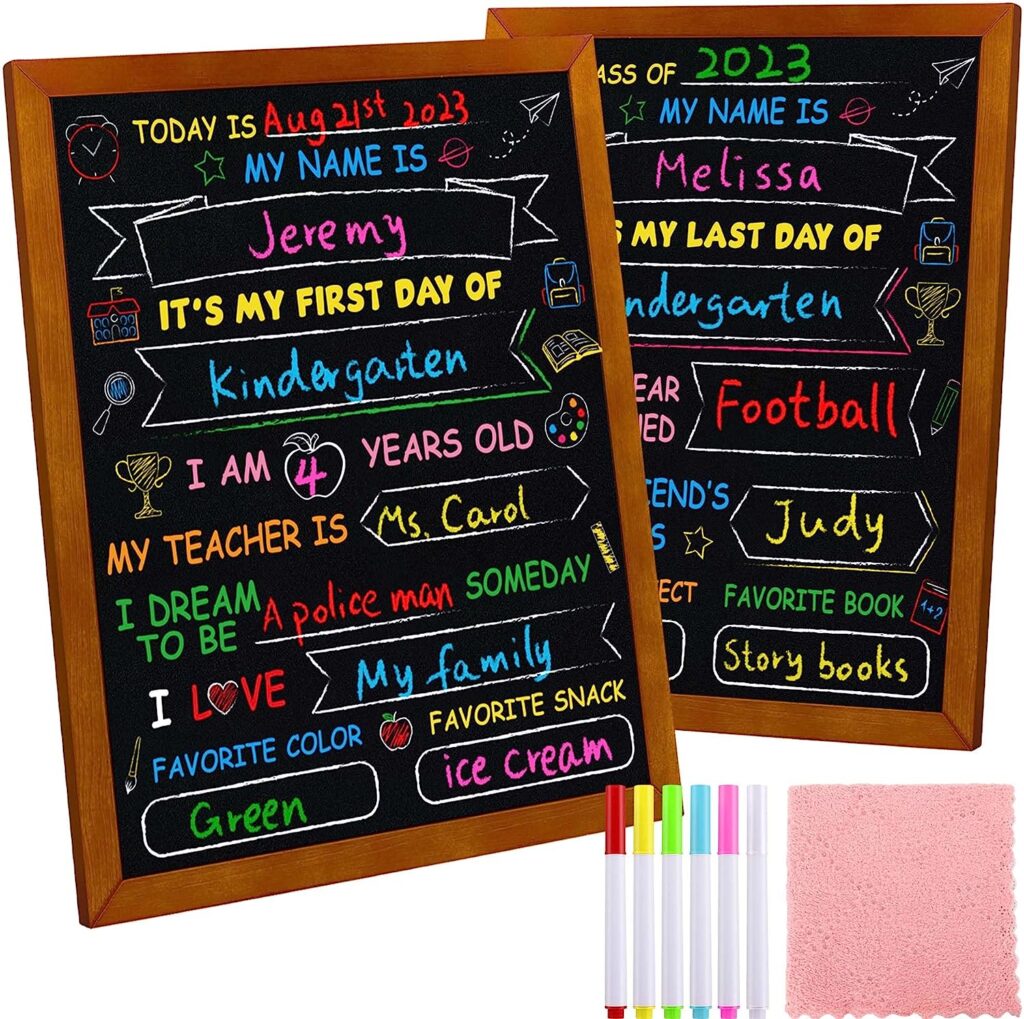 Detailed Specifications
| Dimensions | 12.6″ x 11″ x 0.4″ |
| --- | --- |
| Material | Wood, PET Film |
| Items in Package | Double-sided chalkboard, 6 Markers, 1 Cotton Wipe |
Perfect For…
This chalkboard is perfect for preschoolers, kindergarteners and scholars in 1st to 12th grades. It's a great tool for parents who wish to capture their child's school memories or educators who want to add a fun and interactive element to their classrooms.
Pros and Cons
Pros:
Double-sided design captures first and last day of school memories
Comes with colorful markers and wipe for easy clean-up
High-quality material ensures longevity
Encourages expression and development of writing skills
Cons:
FAQ's
You may find your queries answered below.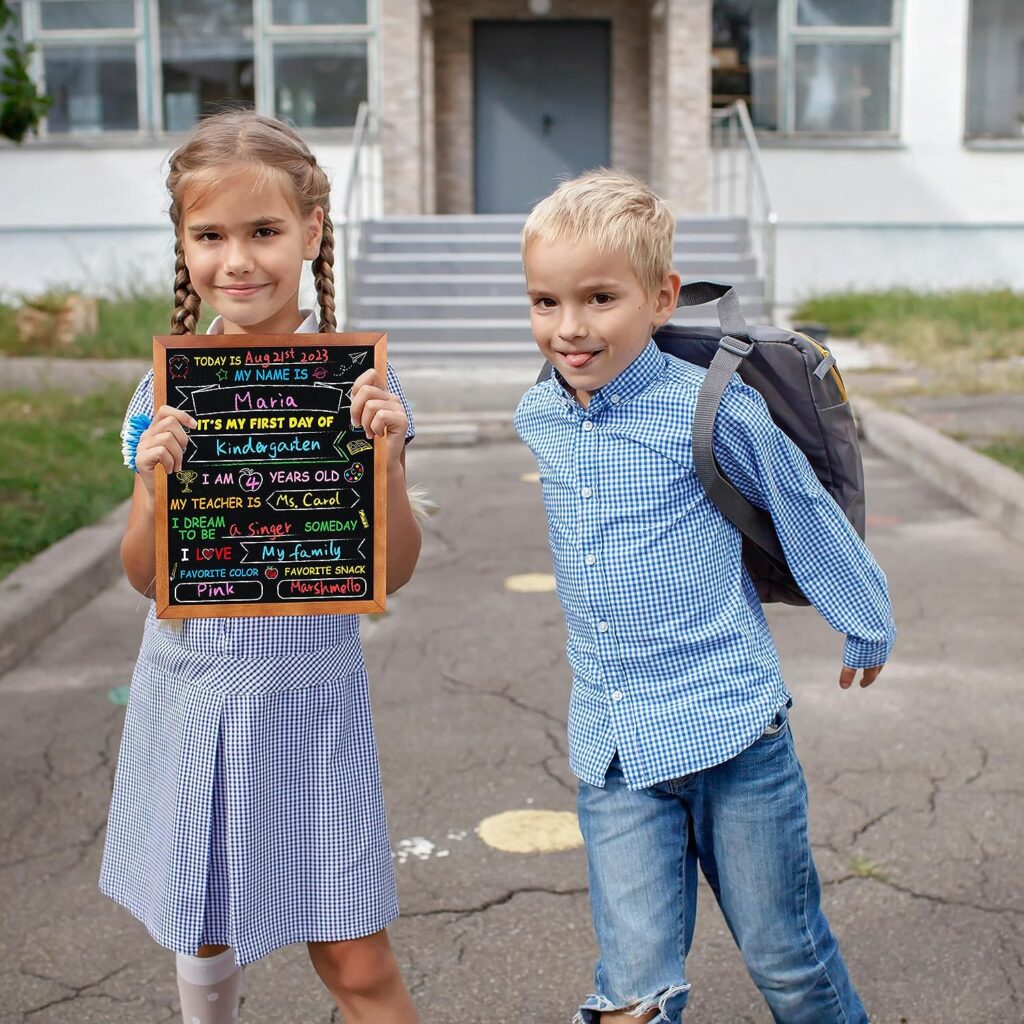 Customer Appreciation
Reviews from families who've used this chalkboard are overwhelmingly positive, citing its high quality, inclusive package, and utility in catching precious memories.
Value for Money
Considering its quality, durability, and inclusive package, the product offers great value for its cost.
Maximize Use
For best results, encourage your child to fill out the board themselves. This not only makes the board more personal, but it also supports their literacy development.
Wrapping Up
Snapshots of Childhood
The "First & Last Day of School Board" offers tangible keepsakes of your child's growth over the years. From recording their age, favorite book, teacher to things they love, this board preserves precious memories in a unique and heartfelt way.
A Worthwhile Investment
Considering its utility, quality, and value, the chalkboard set is a worthwhile investment. The double-sided design, inclusive package dealing, and the opportunities for learning and memory-making it offers make it a must-have for parents and educators alike. So, here's to creating and cherishing memories, one school year at a time!